Welcome to Civic Reserve Recreation Centre
Covid Closure
As per the State Government directive, lockdown restrictions remain in place for Metro VIC, meaning we will remain closed until further Government direction. Please refer to our COVID Updates page for more information. Remember to stay home and stay safe.
Welcome to Civic Reserve Recreation Centre
Located within the picturesque Civic Reserve Mornington, Civic Reserve Recreation Centre is an inclusive venue hosting a boutique gymnasium, group exercise studio, wellness classes, two court multi-sport stadium and child care facility. The venue is also home of the Mornington Youth Club Gymnastics, Mornington Peninsula Table Tennis Association and Mornington Tennis Club.

This multi-activity regional venue serves the Mornington community and surrounding suburbs catering for the inclusion of people of all ages and abilities. We also offer you a range of different services, including personal training, childcare and our kiosk facilities.

With something for everyone to enjoy, we look forward to providing you with our best health and leisure services possible.
COVID CLOSURE
AS PER STATE GOVERNMENT DIRECTIVE, PLEASE NOTE OUR FACILITY IS CURRENTLY CLOSED.
Opening Hours*
Monday - Friday
8.00am - 9.00pm
Saturday
8am - 5pm
Sunday
CLOSED

*subject to change based on facility bookings.
Become a Member
As a Civic Reserve member, you will have access to ongoing support from our team who will provide the support and motivation needed to help you reach your wellness goals and supporting a happier, more active lifestyle.
Introducing Active World
Introducing Active World – the self-managed portal bringing your membership into the palm of your hand!
Becoming Your Own Champion
Becoming a champion does not mean we need to represent our country or even our state, being your own champion is being proud of your accomplishments and setting yourself goals to work towards. How can you set yourself on your own path to greatness?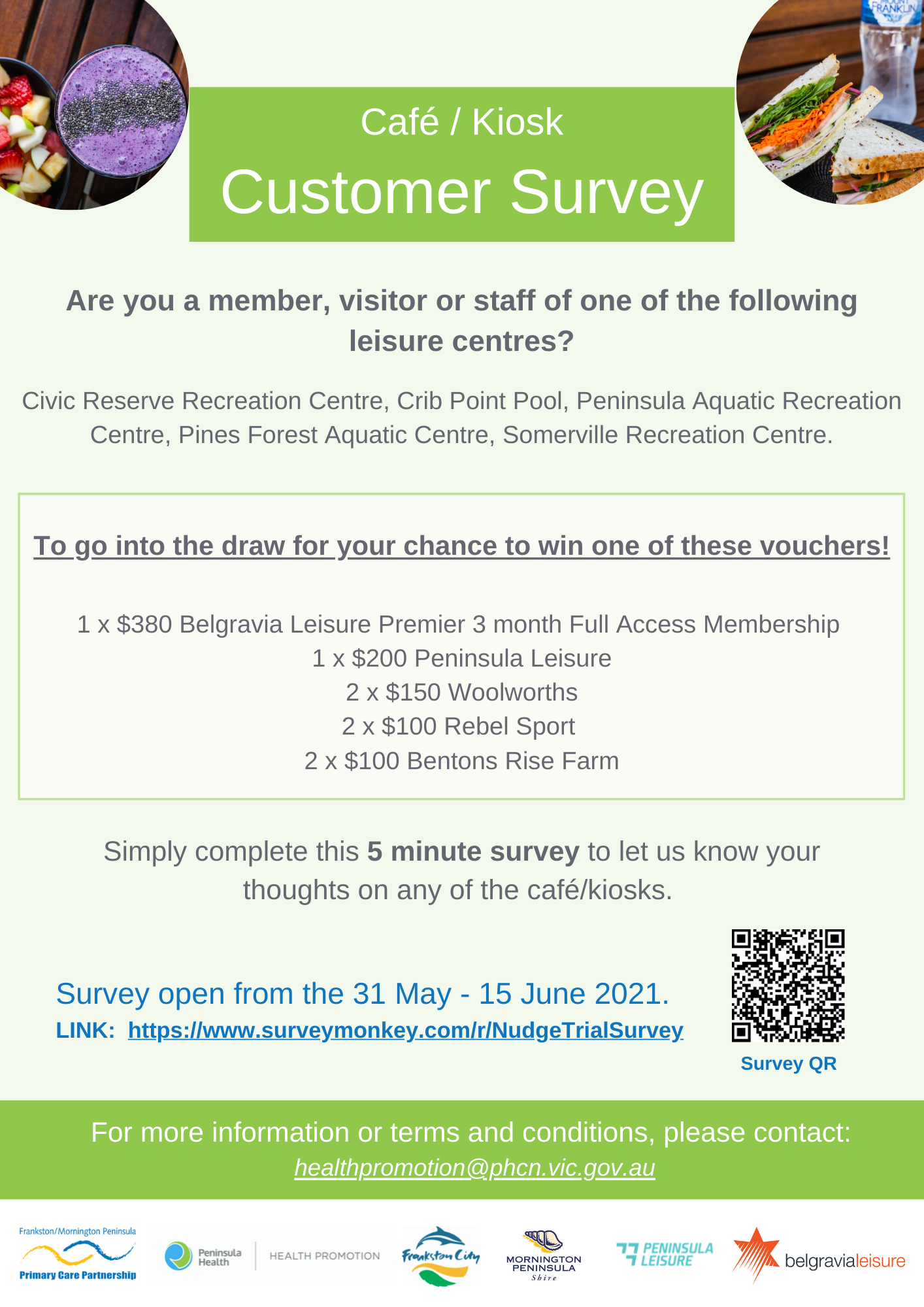 Recreation Centre Cafe Survey
Peninsula Health, Frankston City Council, Mornington Peninsula Shire and the Frankston Mornington Peninsula Primary Care Partnership have been working with local leisure and recreation centres, managed by Belgravia Leisure and Peninsula Leisure to increase healthy food and drink options, their marketing and promotions in and around their café/kiosks.
$2 Pocket Change Menu
Treat yourself these school holidays with something from our $2 Pocket Change Menu!